DALIFANT – WIND POWER GENERATOR
30kW wind turbine for your energy needs
Our wind power generator solution offers the following benefits: 
High energy production due to oversized blades – larger than for all available 30

 

kW solutions

This residential wind turbine has a tried and tested design through multiple installations in Sweden, Denmark, the UK and the USA

 

Silent operation: the quietest small scaled wind turbine in its class across full range of wind speeds

Reliability and safety: this residential wind turbine has three levels of braking mechanisms, mean that the blade never over-speeds or runs out of control

 

EU-manufactured: this wind power generator is assembled in the UK and electronics is manufactured in Denmark.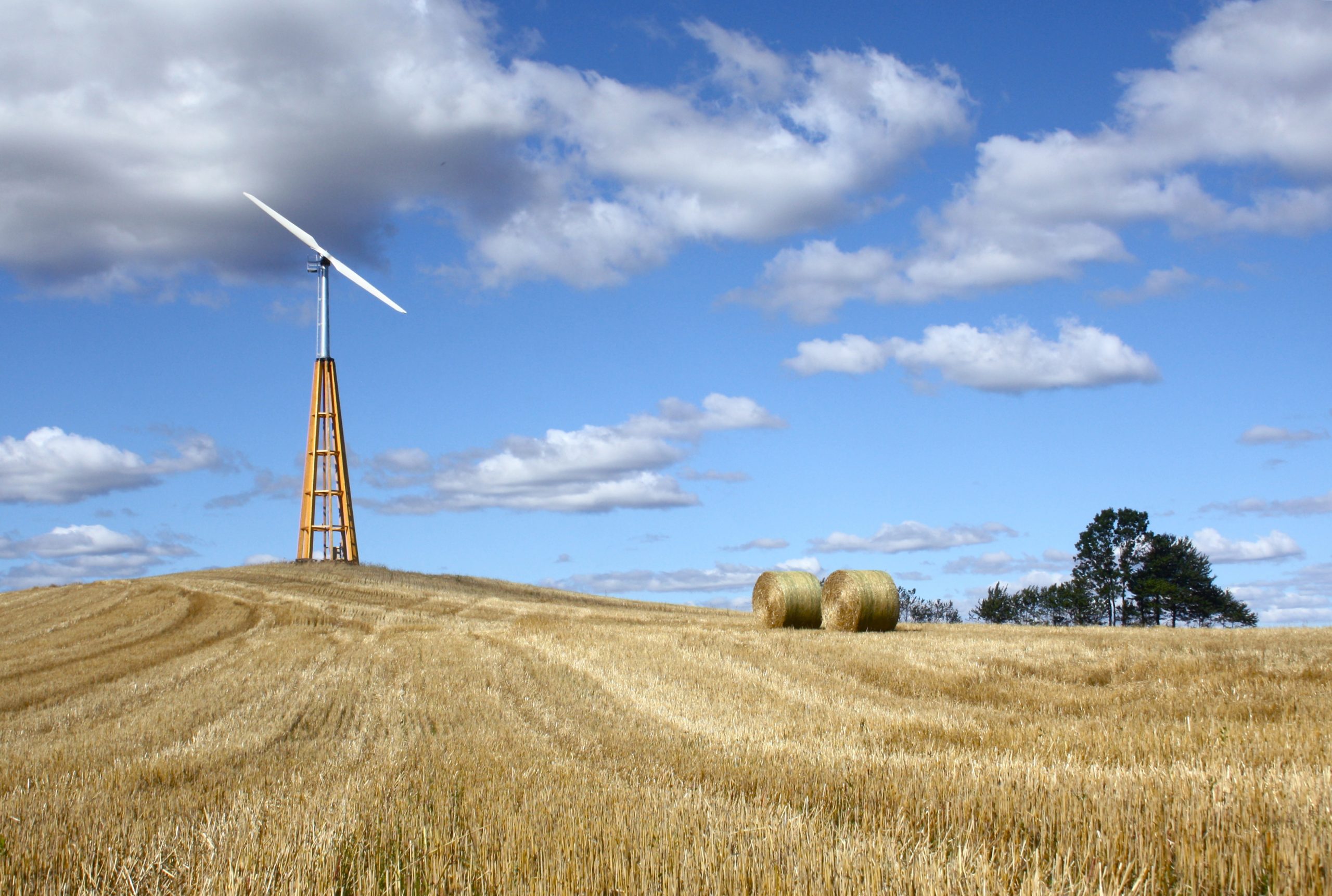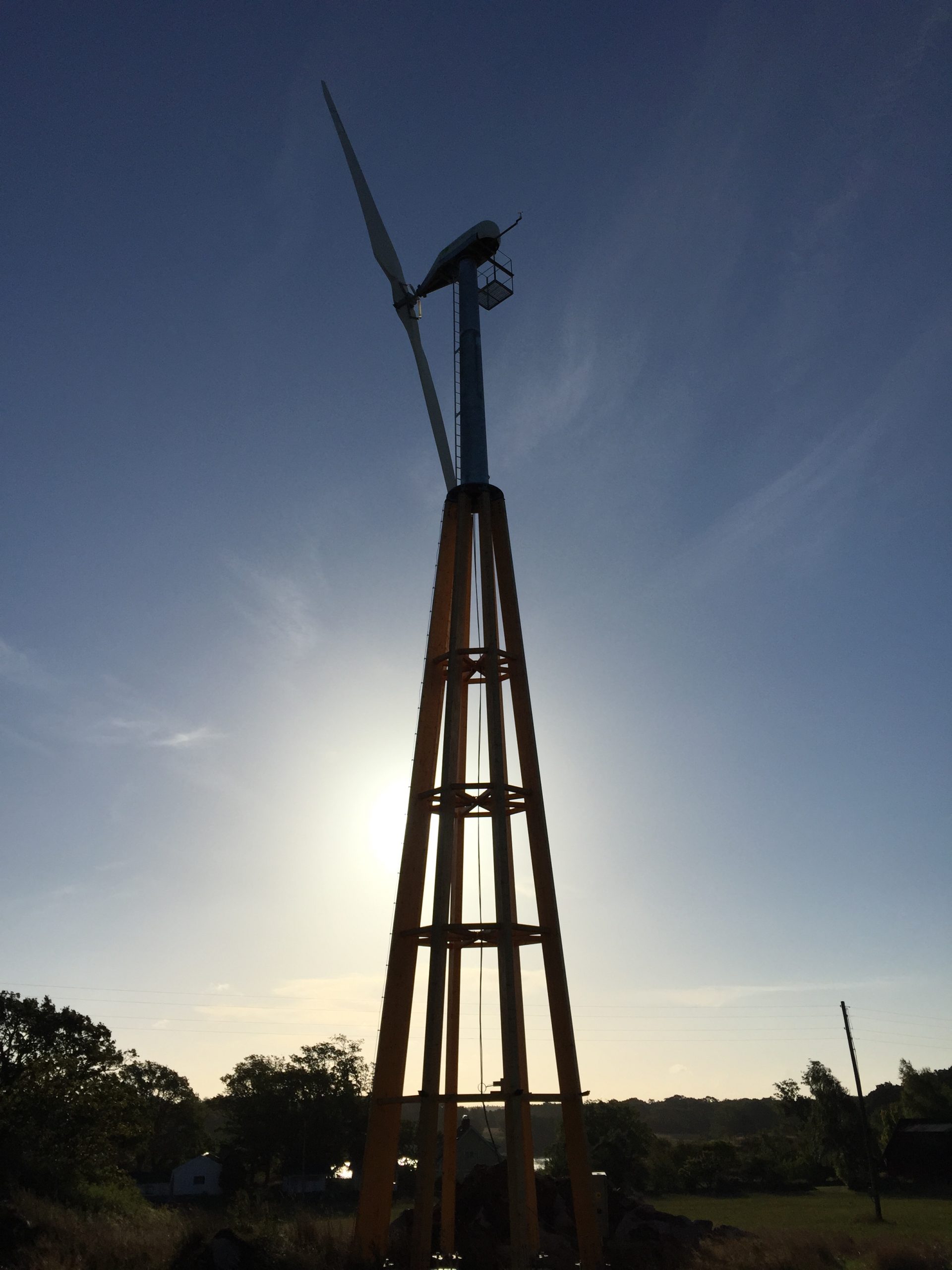 SMALL SCALED WIND TURBINE
Agriculture sustainability
The DALIFANT is INNOVENTUM's contribution to sustainable farming systems. This small scaled wind turbine is installed on a unique 19.8 m wooden tower made in Sweden, designed with the aim of optimal visual impression, quiet operation and maximum use of renewable materials. 
Due to its exceptionally large rotor diameter the energy capture of the DALIFANT is considerable even at low wind speeds, thus making wind power generation feasible at locations where the average wind speed is relatively low. 
Large swept area ensures very effective use of wind power resource resulting in greater amount of energy generated: the oversized rotor captures up to 80% more wind energy than other turbines with the same rated power output. 
Reduce CO2 with residential wind turbine for agriculture sustainability
There are 2 ways to reduce CO2 in the atmosphere: 
Reduce emissions or "carbon sources"

Remove CO

2

 and store it – increasing "carbon sinks"

 
Wood has the unique ability to do both – capture and store CO2 while reducing carbon sources. Each cubic metre of wood saves a total of 2 tons of CO2.
Every cubic metre of wood used as a substitute for other building materials reduces CO2 emissions by an average of 1.1 ton CO2.
If this is added to the 0.9 ton of CO2 stored in wood, we get a total of saved CO2 of 2 ton.
Sustainable farming systems on wooden towers 
Timber used for INNOVENTUM's wooden towers is proven to reduce noise of small scaled wind turbine installations. Since the velocity of sound waves in wood is low, wood is one of the best sound insulators. 
While a conventional stand-alone steel tower amplifies the noise through a hollow tube construction, the DALIFANT multi-leg wooden tower absorbs this vibration, making the operation of the wind turbine much more silent.
NEW TECHNOLOGY AND SUSTAINABLE AGRICULTURE
Sutainable farming systems
Data input and management 
Integrated microprocessor with multiple sensor input

 

Online monitoring option accessible via computer

 
System protection 
Base level: Passive stall of blades limits power output

Second level: Control system activates mechanical brake if:

Wind speed exceeds 20 m/s

 

Abnormal vibration occurs

 

Grid is disconnected or generator overheats

 
Third level: Centrifugally activated aerodynamic brakes built into rotor tips function as a final safety measure. 
Additionally, there is a manual override button, which activates mechanical brake. 
Small scaled wind turbine – Danish design standard
Our residential wind turbine DALIFANT has been developed according to the 'Danish design' standard: the design basis used for most of the large commercial wind turbines today. 
This small scaled wind turbine has been approved in Denmark by DTU according to the official HB-standards, by TUV laboratory in the UK under the MCS regulation, as well as by NREL in the USA

 

The wooden tower used for the DALIFANT has been developed by INNOVENTUM in collaboration with 2 leading universities in wood engineering: Lund University, Faculty of Engineering in Sweden and ENSTIB  in France.

More than 700 hours of engineering work was required to finalize the 19.8 m tower.