SOLAR CARPORT AT INNOVENTUM.STORE
This stylish sustainable charging station is a perfect solution for your EV
Tesla, Porsche, Polestar… A charging installation for any EV you have
The wooden based SOLAR CARPORT delivers enough energy to power each EV parked underneath to drive 40 000+ km annually or one tour around the planet. Performance is monitored in real-time for each panel and for the whole set combined from any device. You have full control over your power production, and it's easy to compare performance by days, weeks, months, or even years.
Through partnerships with the best companies in the eMobility area, our products become efficient, smart and beautiful.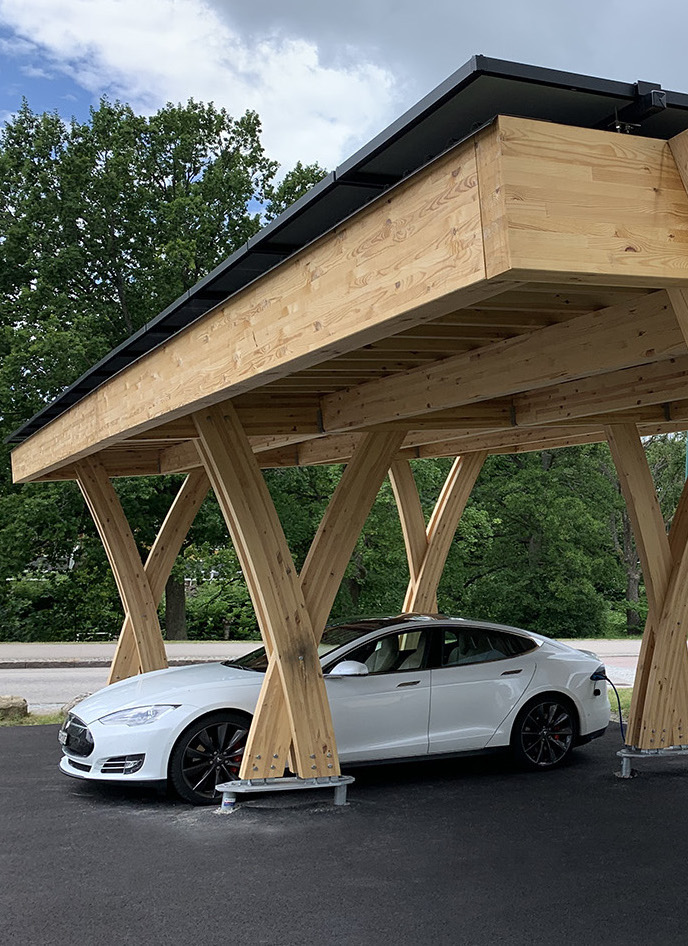 Choose your SOLAR CARPORT
depending on your EV fleet and reserve it now for 3,000 SEK only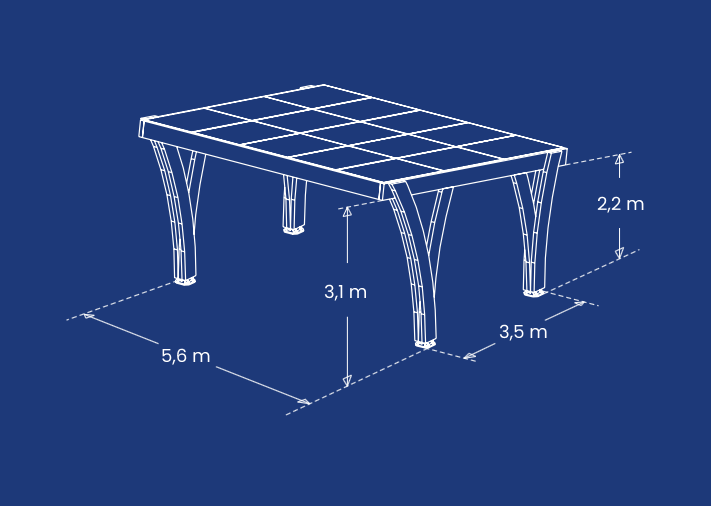 SOLAR CARPORT 15
5,4 kWp
30 000 km/yr
PV area: 29,9 ㎡
Cost: 16 600 € excl. VAT, foundation and installation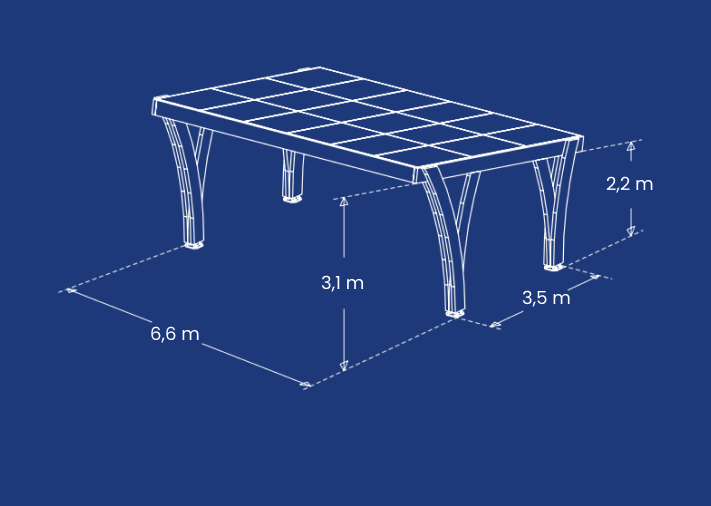 SOLAR CARPORT 18
6,5 kWp
33 000 km/yr
PV area: 35,8 ㎡
Cost: 18 800 € excl. VAT, foundation and installation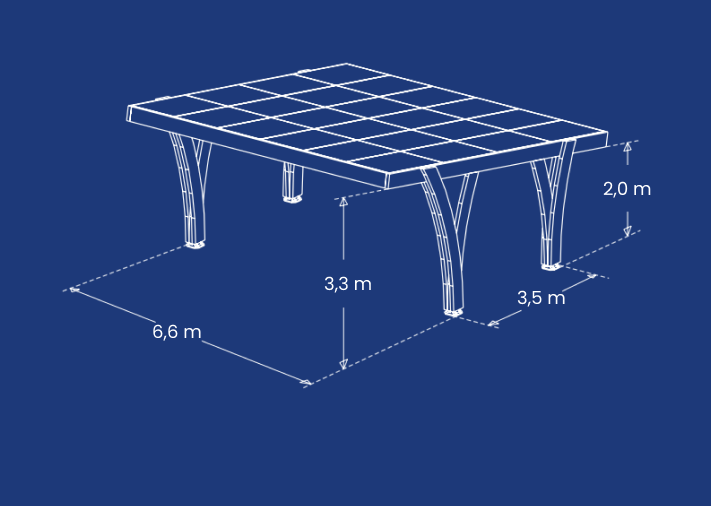 SOLAR CARPORT 24
8,6 kWp
43 000 km/yr
PV area: 47,6 ㎡
Cost: 19 900 € excl. VAT, foundation and installation
FASCINATING SOLAR CARPORT
Unique solar cells
We always combine our SOLAR CARPORT in larch with solar modules from our German partner Luxor Solar equipped with monocrystalline, bi-facial, black-black, glass-glass technology convinces with its ultrahigh voltage. An additional yield of 25%, depending on the reflection through the bi-facial modules, can be achieved compared with competitors.
Thanks to the glass-glass technology our SOLAR CARPORT brings natural light through the modules for a translucent, natural design, while expanding lifetime from conventional 25 years to 50+ years. The wooden structure has a lifetime of 100+ years and INNOVENTUM.STORE will offer an attractive upgrade package after the first 50 years of clean energy production.
Easy installation
We make EV charging easily accessible and beautiful by providing touchless delivery and a DIY (do it yourself) program.
The installation is a simple process: no excavation is required through use of pile screw foundation – less digging – dig that!
The footprint required to install our SOLAR CARPORT is spanning from 29m2 EV shelter area for the SOLAR CARPORT 15 version to 48m2 EV shelter area for the SOLAR CARPORT 24 version. More information in the drawings above/below.
Application
Wondering whether our carport will work in your case? Our client portfolio includes home owners, companies in the forefront of the electric vehicle transition, NGOs, utilities, municipalities, and commercial centers. The SOLAR CARPORT is good for everyone who needs to charge EVs.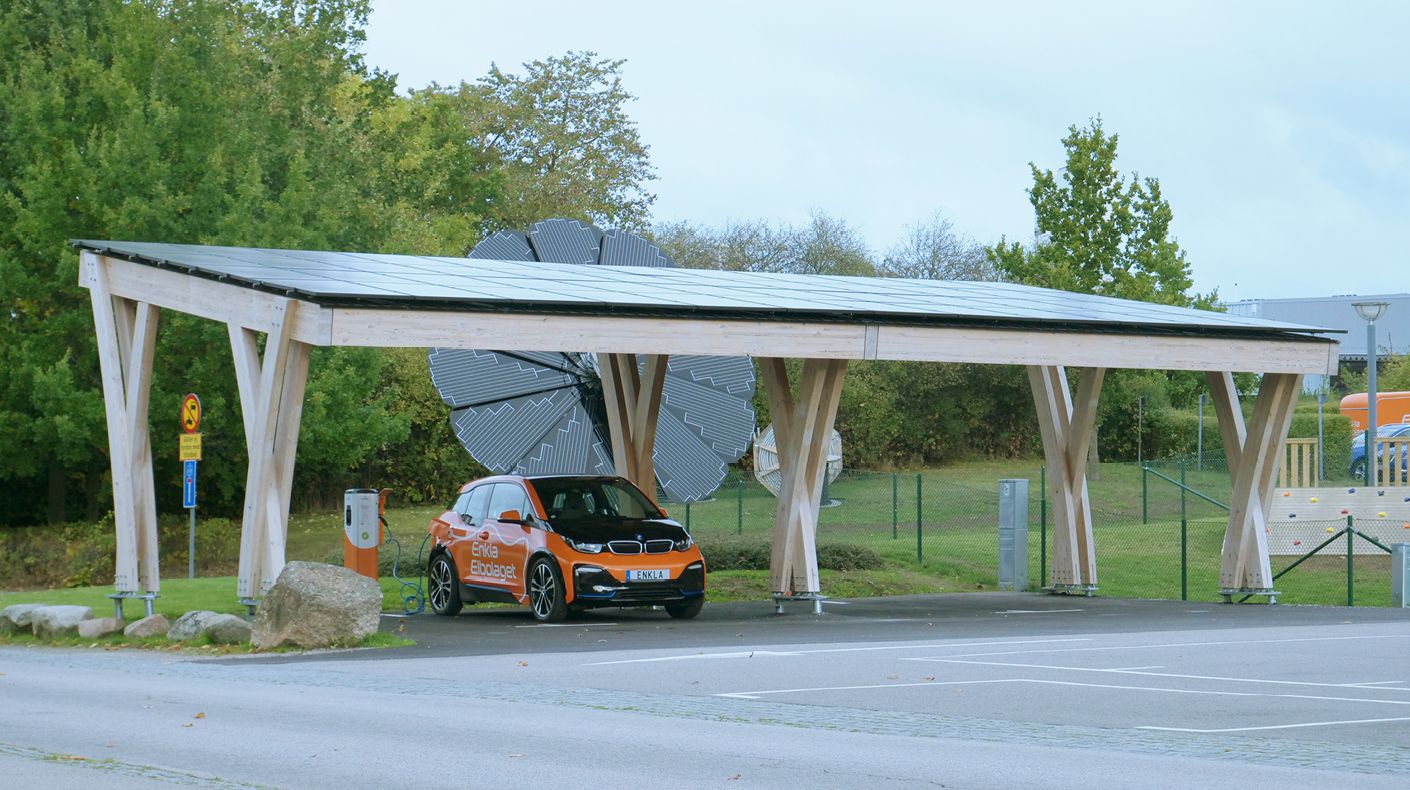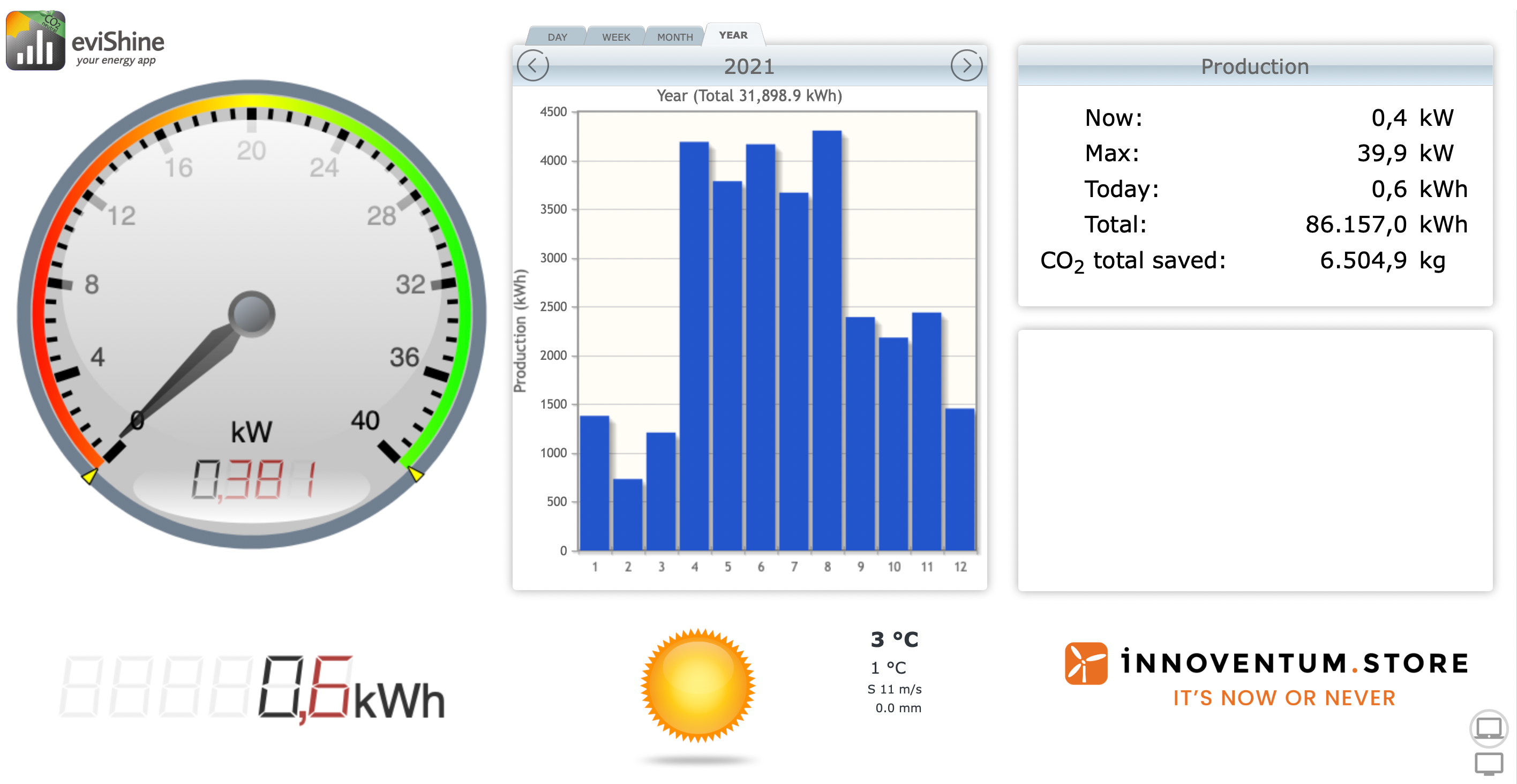 Online monitoring
Track how much energy your installation produces in real time with the monitoring tool we provide. Compare energy production from year to year and enjoy money saved on electricity.
SUSTAINABLE EXCLUSIVE DESIGN
Through use of exclusive, glue laminated siberian larch our products become naturally durable against mold and insects and resistant to changing climates for decades to come.
Designed by INNOVENTUM in Sweden, fabricated in Europe.
The SOLAR CARPORT was firstly installed together with UNIDO for the COP22 climate conference in Marrakesh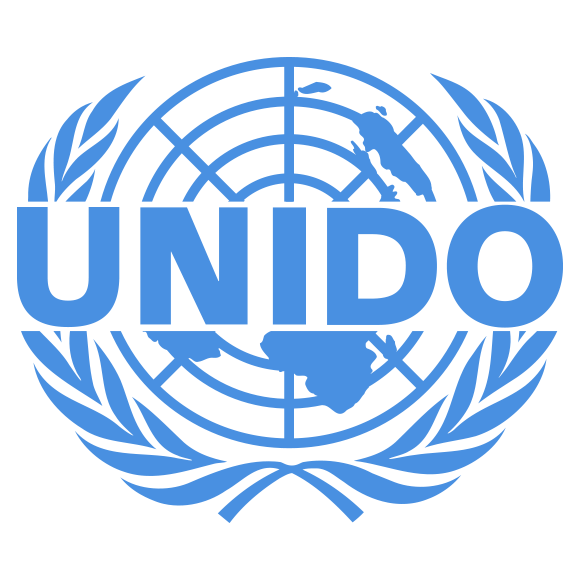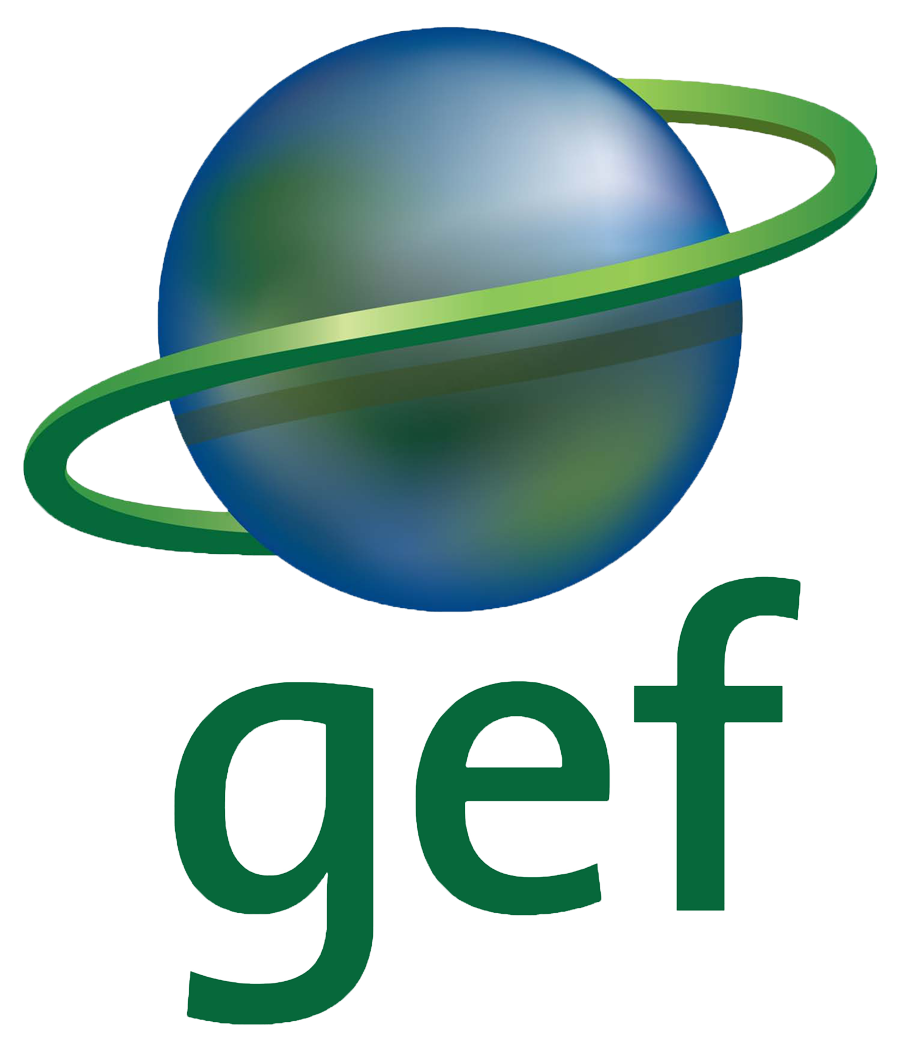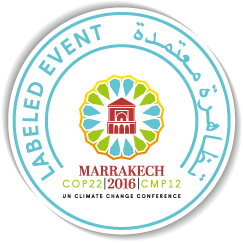 Made up your mind? Reserve you SOLAR CARPORT right now for 3,000 SEK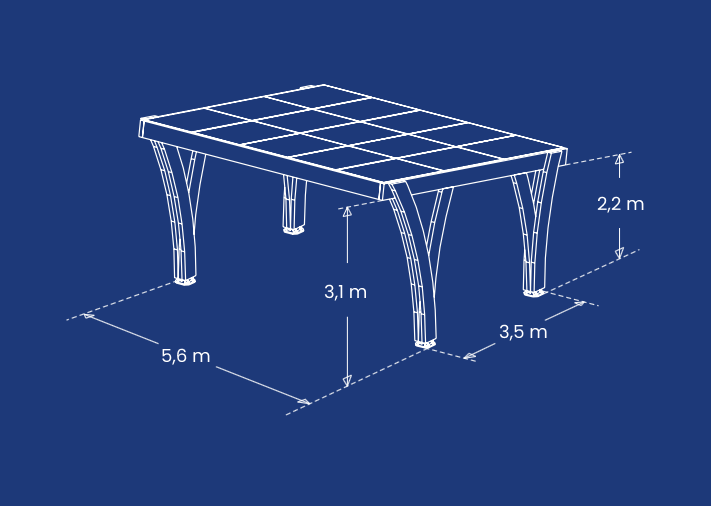 SOLAR CARPORT 15
5,4 kWp
30 000 km/yr
PV area: 29,9 ㎡
Cost: 16 600 € excl. VAT, foundation and installation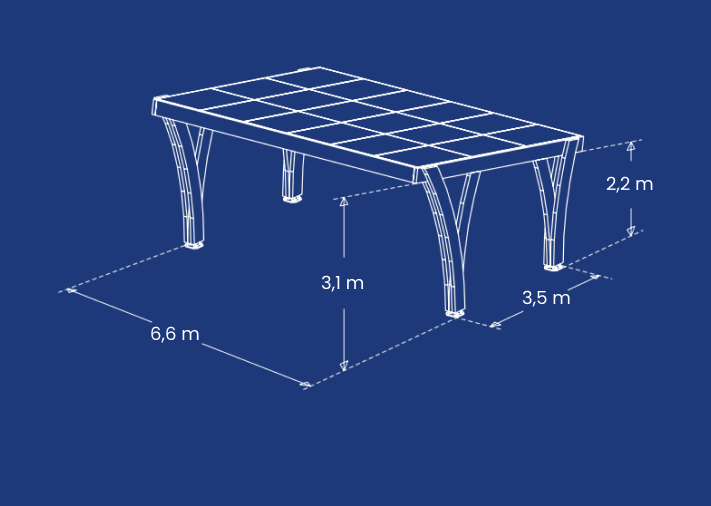 SOLAR CARPORT 18
6,5 kWp
33 000 km/yr
PV area: 35,8 ㎡
Cost: 18 800 € excl. VAT, foundation and installation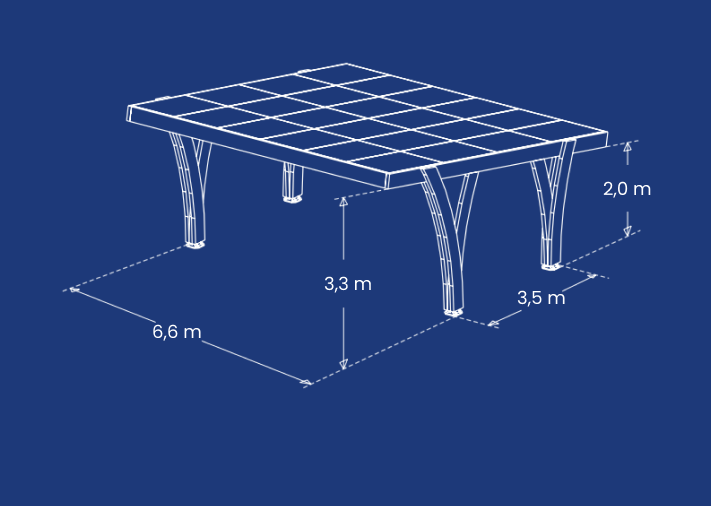 SOLAR CARPORT 24
8,6 kWp
43 000 km/yr
PV area: 47,6 ㎡
Cost: 19 900 € excl. VAT, foundation and installation