Our sustainability market made a request for a SOLAR CARPORT that is cost- and environmentally efficient EV charging solution to simplify sustainable eMobility.
A request that we at INNOVENTUM.STORE are happy to meet with several innovative improvements – one of those improvements are digitalization.
Choose our EV products for sustainable neighborhoods.
This SOLAR CARPORT converts sustainable energy from the sun into green clean electricity that is enough to both charge your EV, and lower the cost of either your electricity – while enhancing the grid-stability of your neighborhood.
It is our pleasure to introduce a carport with solar cells that has a unique design and is also easy to order online and install with touchless delivery, or a clear DIY (Do It Yourself) program. The mission is to make EV charging easily accessed and beautiful. Our client portfolio includes private home owners, companies that go electric with all company cars as well as NGOs, Utilities, Municipalities, and commercial centers.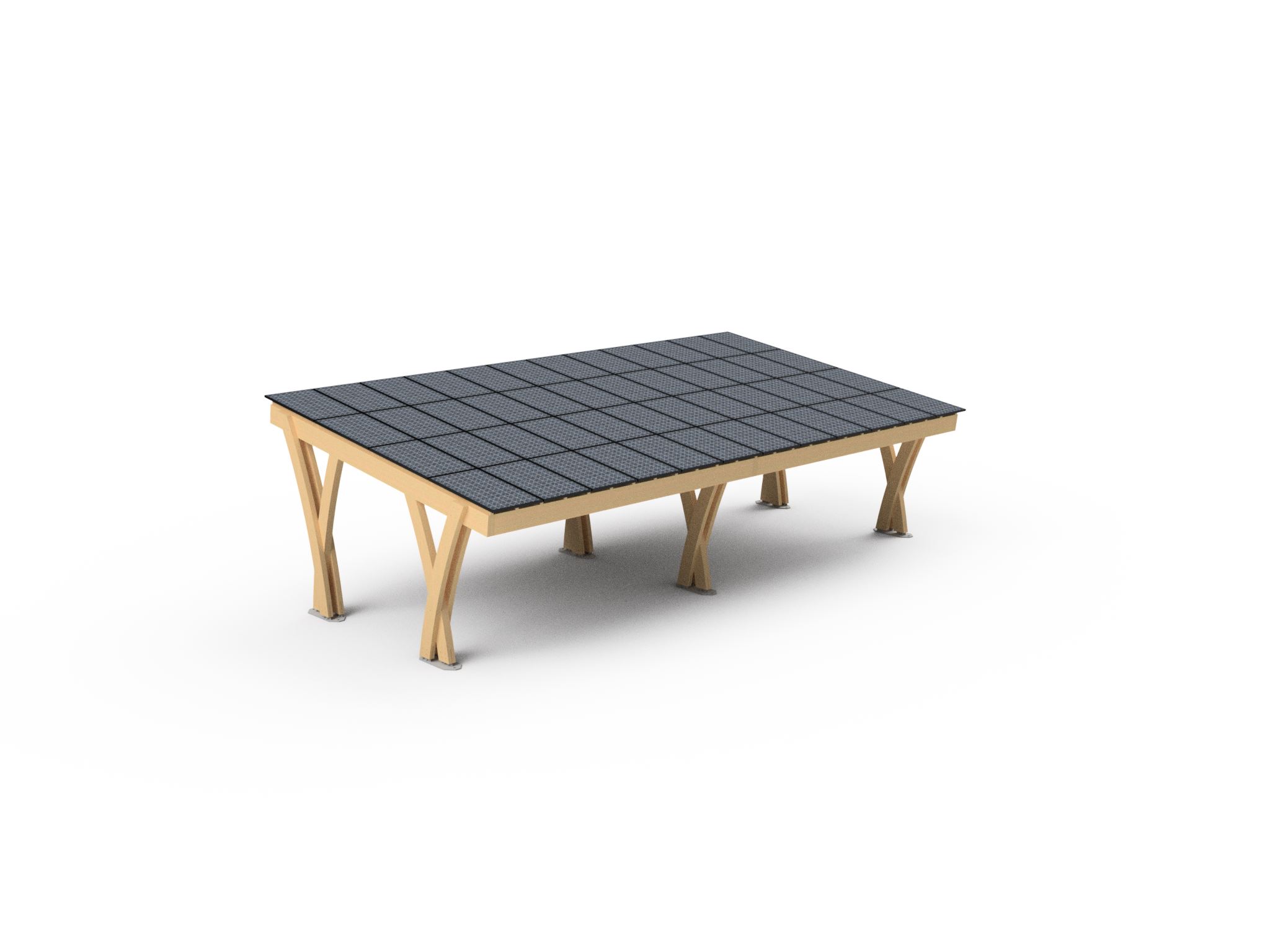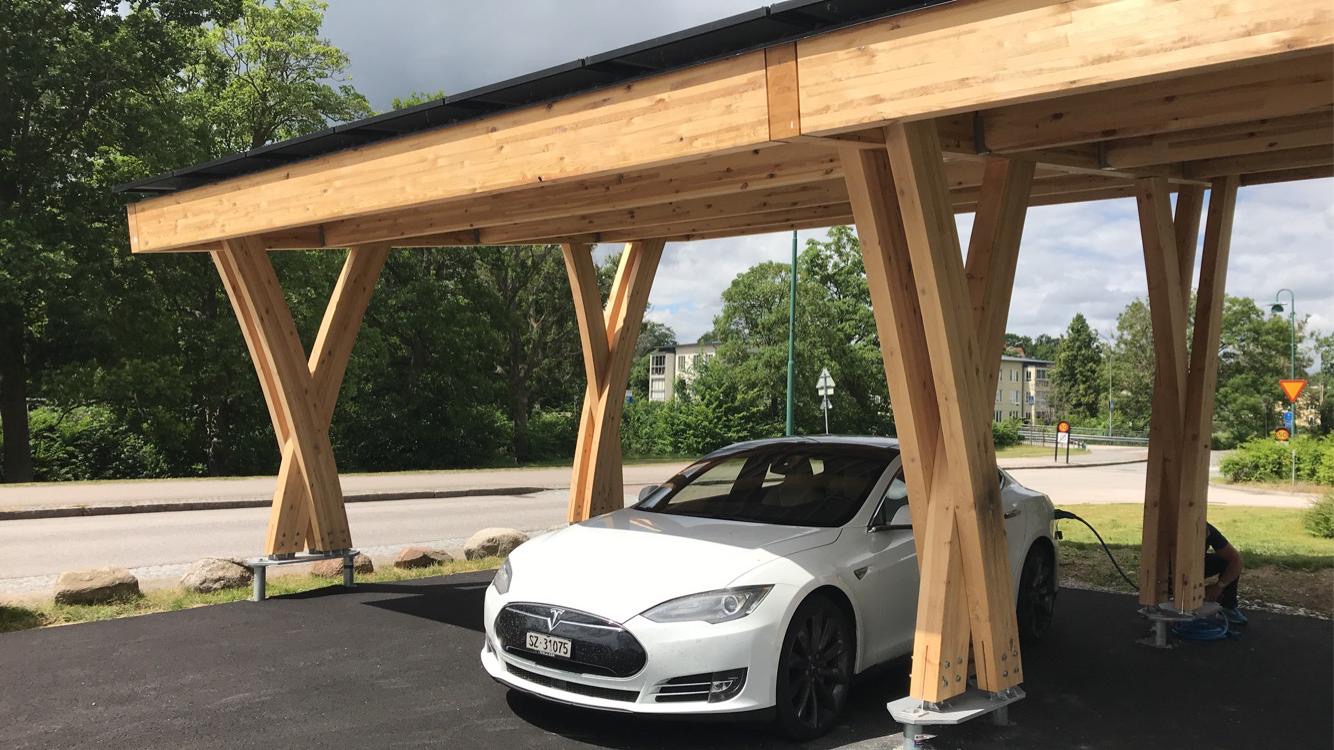 TECHNICAL INFORMATION ABOUT YOUR SOLAR CARPORT
Solar power for homes
Our SOLAR CARPORT charging stations provide valuable shade and shelter to the EVs parked underneath while generating clean energy for reduced electricity costs, making charging of electrical vehicles green and renewable.
The SOLAR CARPORT by INNOVENTUM.STORE continue the long tradition of beautiful and ecological design as our EV charging solutions all use wood as supporting structure for the solar panel modules. The scalability of this innovative and unique carport with solar panels, is from 1 to +10 electric cars, which makes it easy for an eMobility project of any size to be implemented.
INNOVENTUM has designed, engineered and installed SOLAR CARPORTS across diverse geographies, including hurricane plagued wind zones and seismic zones.
INNOVENTUM's EV charging station SOLAR CARPORT, has been designed according to the Eurocode regulations in response to all requirements for safety and stability.
This product comes in 2 versions:
Standard: snow loads < 200kg / m2
Arctic: snow loads > 200kg / m2
Designed by INNOVENTUM in Sweden and always fabricated in Europe, the structure is made of wood with gracefully curved post shaped. The legs were designed to facilitate ease of maneuvering when parking and opening doors.
SOLAR PANELS FROM LG, OUR GLOBAL PARTNER
Sustainable installation of your electric vehicle charging station from INNOVENTUM
We offer solar panel power from 300 to 360 Wp and have the resources to design a solution that meets the energy needs of every customer. The product can be ordered online with on- or off-grid configuration. The annual electricity production (configuration: two electric cars) is 8500 kWh. The rated power of the 24 PV panels is 335 Wp. A performance configuration with yet higher energy production will be offered soon.
Further technical details.
INNOVENTUM's carports can be supplied with single or double head charging points from Tesla.
Convenient electric car charging with charging power in the range of 1.4kW – 22kW (1-phase 6A up to 3-phase 32A)
User friendly EV charger up to 22kW
Built-in fuse and RCD
Maintenance-free design
To optimize installation time and minimize negative impact on the ground, the SOLAR CARPORTS use ground screws as foundation instead of concrete. No excavation is required – less digging – dig that!
So the footprint required to install our EV SOLAR CARPORTS is spanning from 29m2 EV shelter area (3.5 m x 5.5 m footprint installation area) for the 15 panel version to 48m2 EV shelter area (3.5 m x 6.6 m footprint installation area) for the 24 panel version. The product has a screw foundation instead of a traditional concrete foundations to further reduce CO2 emissions. This means that your carport with solar cells is screwed into the ground and has its full installation completed in just a few hours. A cemented foundation takes several days or weeks to complete because the mass needs to be hardened. It would cause several tons of CO2 emissions and the concrete would stay in the ground for at least 100.000 years before degrading.
Screw foundations are our first choice in all of our installations. Since this option causes 7 times less CO2 emissions, compared to a cemented foundation, it is natural for us to use this method in our installations. Additional positive factors with a screw foundation are saving of water, no waiting time during curing and no need for complex and expensive digging/excavation for the installation. Our Clients dig that no digging is needed!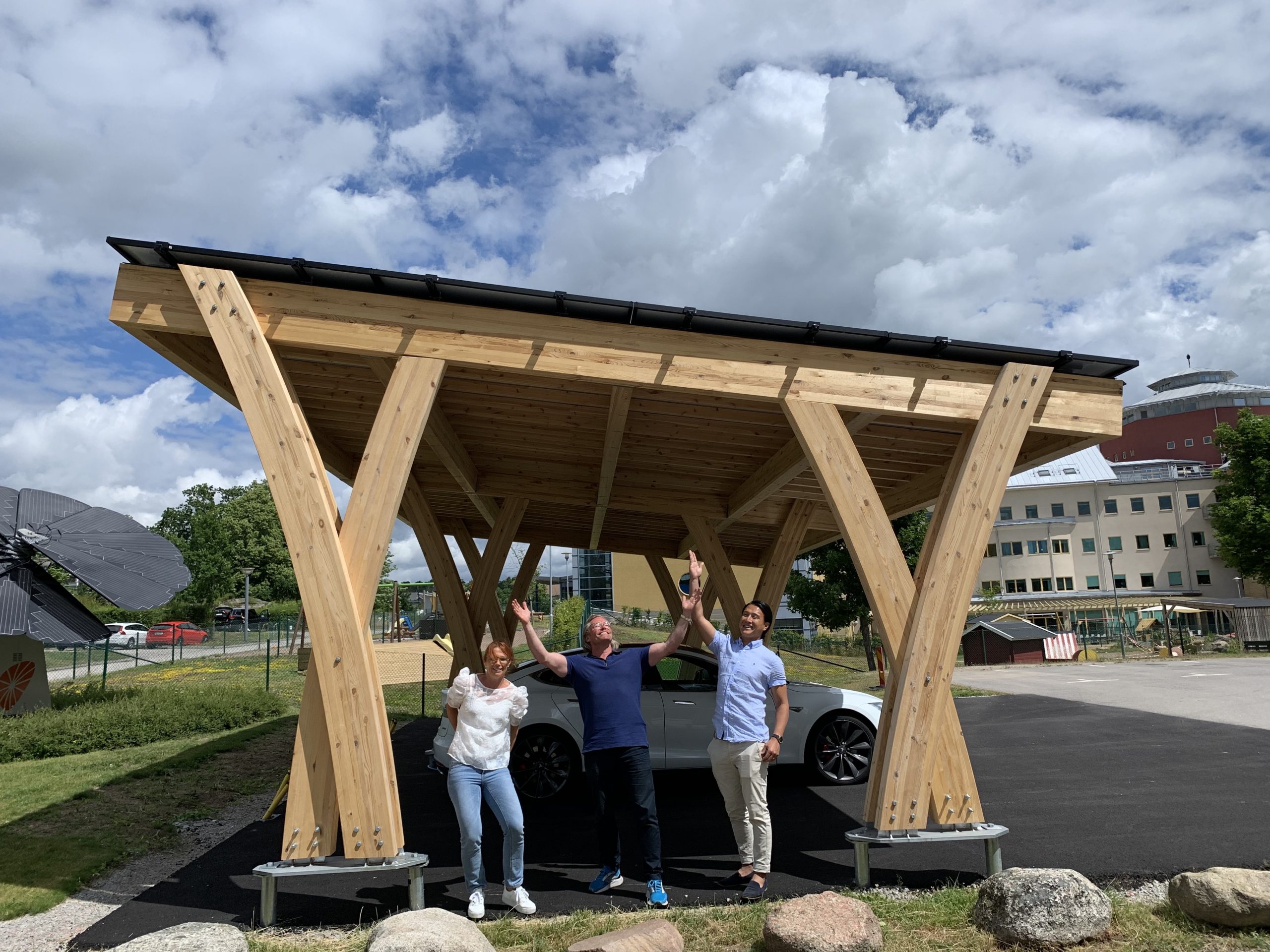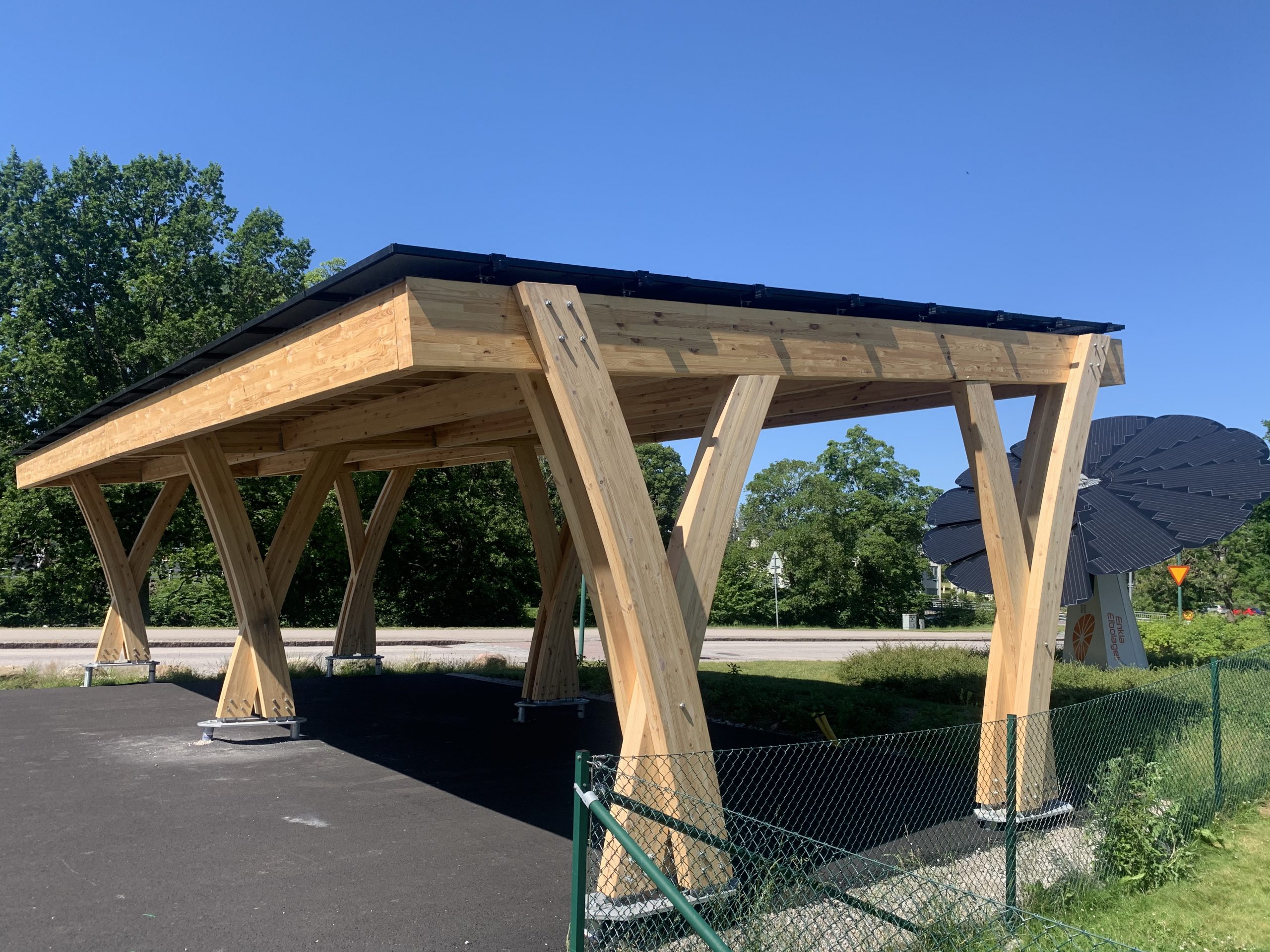 EV CHARGING STATION READY FOR ONLINE ORDER
Buy solar panels from INNOVENTUM.STORE
INNOVENTUM.STORE offers all the support you need after the purchase of your SOLAR CARPORT charging station. We will guide you all the way from your order to the installation of your product. You can expect smooth and safe payments, swift delivery and chose touchless installation if you wish.
Going back in time by producing your own electricity, through solar and wind
Produce your own electricity and charge your car at the same time. Green, renewable and simple! As previously mentioned, this unit can be combined and expand the installation up to 10, or more electric cars – thanks to our modular and scalable design. The surplus of the solar cells, can then be used to lower you electricity bill and stabilize the local grid in your neighborhood. It is a fact that solar electricity is cheaper and more sustainable than traditional electricity. Win-win, both for you and for the sustainability of our environment!
Buying solar- and wind panels is a popular act for our planet as more reports on our environmental impact come to our attention. It is important to take a stand and choose the actions that benefit both us and our surroundings in a sustainable way. INNOVENTUM.STORE is passionate about making these choices easy for you and for our environment.
By digitizing the sales of our design award-winning, innovative and appreciated products, we give you a pleasant and touchless buyers' journey. A purchase that both feels good and does good.
Renewable EV charging and sustainable materials in our products
Additional to solar panels that combine sustainability with functionality and aesthetics – we are proud to be the only supplier of small-scale renewable energy and EV charging stations that offer wooden structures.
We first installed the SOLAR CARPORTS together with UNIDO for the COP22 climate conference in Marrakesh